Fast & intuitive
visualization
Our business intelligence platform quickly transforms data into easy-to-understand, actionable insights. With customizable visuals that render instantaneously, airline revenue managers can identify competitive opportunities and optimize fares quickly and efficiently.
Request a Demo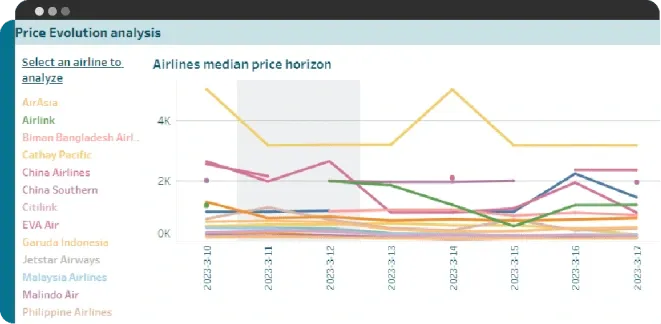 Air Fares per airline, route, cabin & source

Any Origin & Destination – all airlines operated


Only pay for the data you use – no set up fee
No setup fee, no
minimum contract
FareTrack Visualize makes it cost-effective for airlines to monitor the local market. We don't charge a setup fee, and we don't make you commit to lengthy contracts. We only charge you for the data you use.

Our cost-effective approach makes FareTrack Visualize the ideal choice for airlines looking to equip airline revenue management and pricing teams with complete and accurate data.
FareTrack Visualize incorporates Tableau, the leading interactive data visualization software. The integration
of Tableau gives our users even more flexibility to customize views, and analyze data.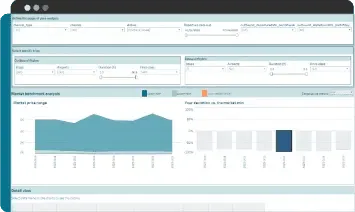 Simple Competitor Analysis
Visualize competitor's fare evolution and identify emerging market patterns to optimize your revenue strategy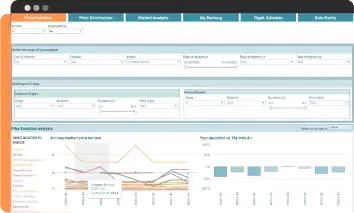 FareTrack's simple visualization makes it easy to benchmark your fares against competitors based on schedule, duration, connections a more.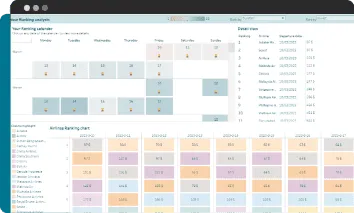 Identify your rank by price & duration to discover your competitiveness in the market.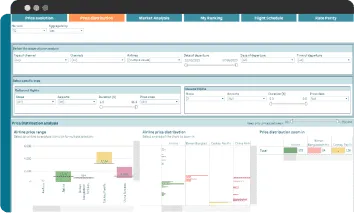 Analyze full comprehensive price distribution of each airline to understand brand.com pricing strategy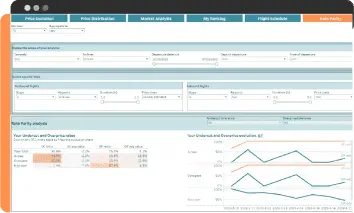 See how often your flights are undercut or overpriced, by how much vs. your price and on which OTAs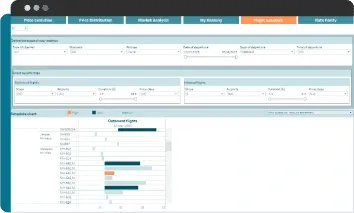 See the flight schedule of each airline as separate outbound and inbound schedules or view them as combined
The most flexible visualization tool for airlines
FareTrack Visualize empowers a new level of business intelligence and decision-making for airlines.Gutentor Advanced Text
Intuitive and flexible data visualization tools deliver accurate and complete data in seconds. With unlimited user accounts, your entire team is able to access decision-ready insights.Gutentor Advanced Text
Quick & easy set-up
After initial set-up (within 24 hours or less) your personalized benchmarking visualization dashboard will be available. Log in with your team's shared account and immediately identify your competitor's pricing patterns. And even better there's no integration with your internal IT or revenue systems.
Request a Demo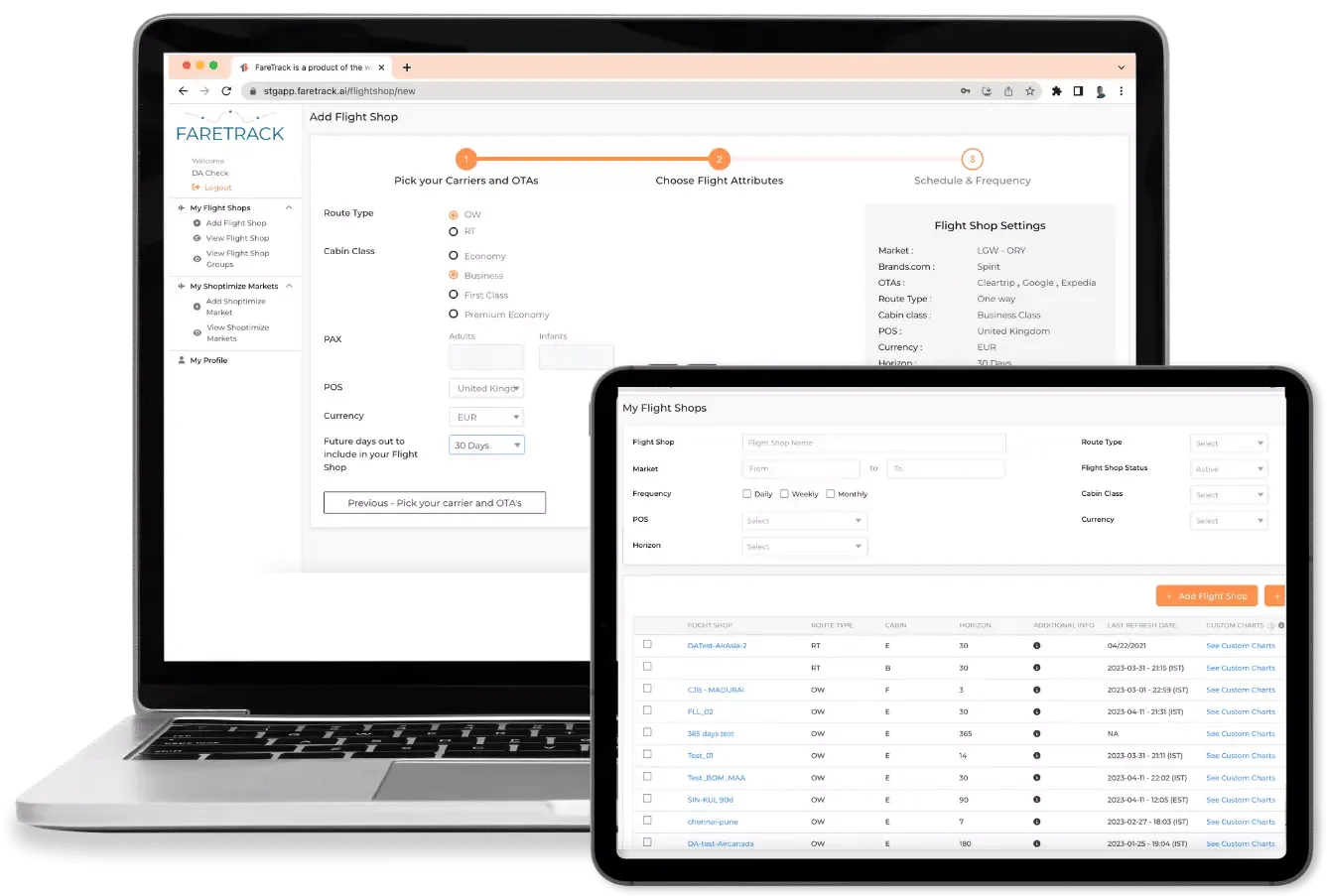 Why Choose FareTrack Visualize?

Daily schedule changes allow customers to react immediately to changes in prices and availability.

Compare prices according to fare type, rules, and baggage, ensuring the correct product comparison.

Market fare analysis allows FareTrack users to understand their fare position in the market.

Daily price change monitoring allows our customers to focus on fare optimization rather than manually checking for changes.

Comparing fares across OTAs or Meta-searches allows revenue teams to monitor rate parity.

Fare benchmarking allows FareTrack users to ensure the prices they offer are optimized against their competition
Explore The Latest FareTrack Resources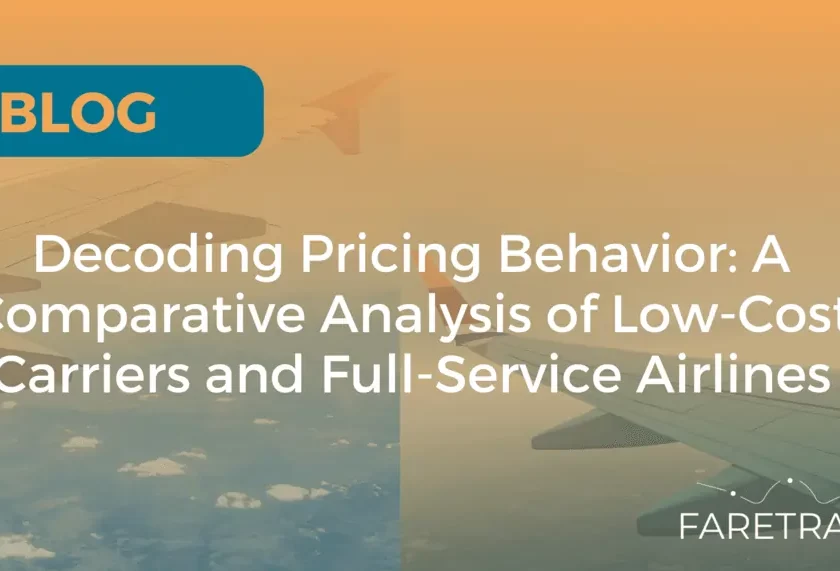 Using FareTrack's pricing behavioral analysis solution Optimize, we recently decided to take a look …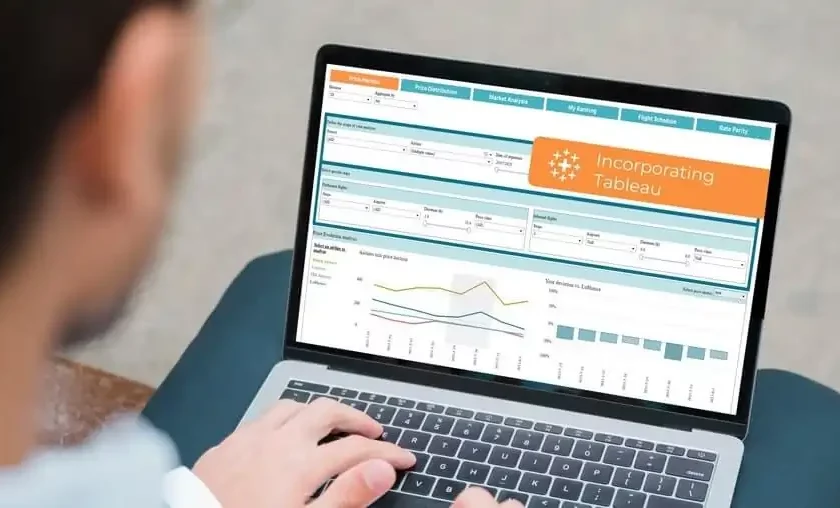 Data visualization flexibility is not just a luxury; it is a necessity, especially in the ever-evolv…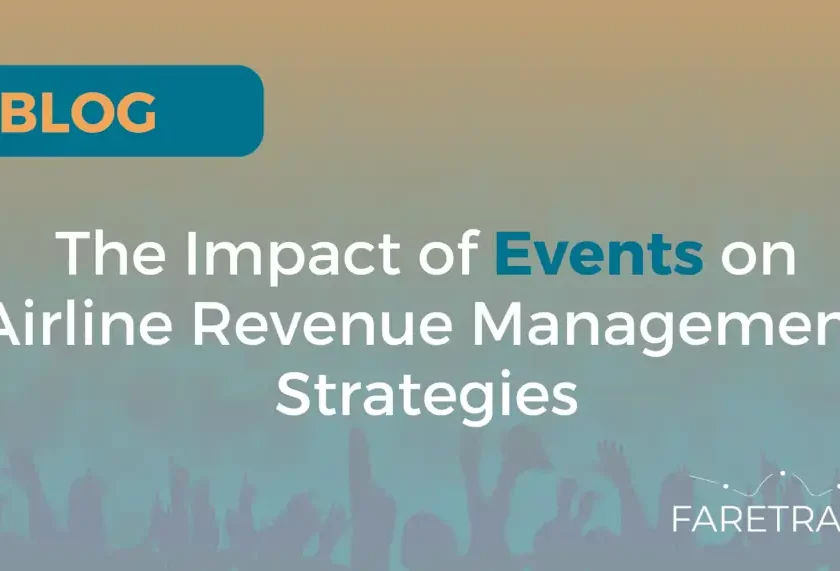 Events have a powerful influence on the demand for airline travel. From concerts and sporting events…
Frequently Asked Questions
How does the visualize free trial work?
You will get access to one route of your choice for 30 days. Simply let us know the route you want to access data insights for, and our team will set you up. For the trial, the data will come only from one source.
How much time will it take to set up?
Single O&Ds can be set up immediately. The fares refresh overnight. Large numbers of O&Ds can be uploaded by our support team, within 24 hours. In some cases, set up time may vary subject to the source.
Can I incorporate internal and external data into the visualizations?
Yes, our visualizations are entirely flexible to your needs. Internal and external data, such as load factors, can be incorporated to create a more personalized visualization.
Does Visualize incorporate Tableau?
Yes, visualize incorporates Tableau, the leading data visualization and business intelligence software. It provides a powerful and intuitive way to analyze, visualize, and share data with others.
What is the length of the contract?
There is no minimum contract length, Our contracts can be canceled at any time with advance notice of termination.
How frequently can we get updated data?
Typically the data is updated overnight, however if there is a customer request we can update the data more or less frequently.
Do you charge extra for team access?
No, there is no charge for team access. FareTrack is designed to be a multi-user platform for revenue management and pricing teams. Additional costs will be incurred for the Tableau dashboards that are customized for the users.
What can I see in my Visualize dashboard?
The dashboard is a place where you can see all the O&Ds or segments you are tracking. Each market is then visualized using graphs, which provide the user with a more detailed view of what is happening in a specific O&D or how the fares of competitors are changing. Data visualized includes price range, price evolution, price ranking, price distribution, schedule and parity.
Is there a setup fee for Visualize?
No, we do not charge any extra fees for the setup and you only pay only for the data you use. If you would like a more additional customization, depending on the scale, this could be subject to a small set-up fee.
How accurate is your data?
Our data usually falls into 99,9% accuracy, however as the data is live, it means prices may change any second, the prices updated on a daily basis may be changed in between refreshes. The more frequent price refreshes the higher the accuracy of data.
Do you have customer support?
Yes, we have highly qualified data experts in our team to help you in each step of your journey.
Is there any integration needed?
No, the FareTrack team will create your account and it will be ready to use without any integration required.