Interview with FareTrack's VP Business Development: The APAC market & real-time fare benchmarking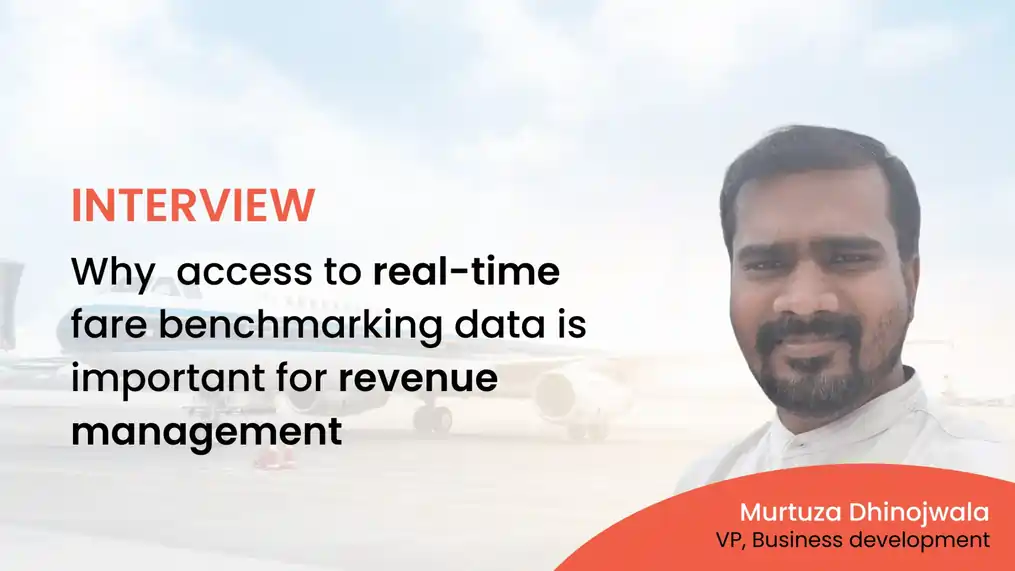 Murtuza Dhinojwala, VP Business Development, APAC, at Aggregate Intelligence shares his insights on the rapidly growing APAC airline market, and the importance of access to real-time data for optimizing fares.
Murtuza has been working closely with airline revenue management teams, supplying them with data intelligence for fare optimization. Find out more about his experience, the key trends he sees in the region, and how he has been supporting airlines to help grow revenue.
Asia-Pacific is the fastest-growing region for airline activity – with this in mind, why is it so important that revenue management teams have access to the real-time fare benchmarking data?
Since Asia-Pacific is the airline industry's fastest-growing region, there is more competition there, making it necessary to conduct thorough data analysis in order to develop an effective pricing strategy. Big data analysis over time is a thing of the past. Since technology has advanced and it is now possible to scan data in real time, there is no reason to rely on historical data when making predictions. Since the industry pricing is so dynamic, I believe it is crucial to monitor real-time data. Revenue managers shouldn't pass up the chance to monitor or recognize trends.
You're working with some exciting regional start-ups as well as legacy carriers – what are some of the fare optimization challenges each is facing?
Yes, we work with some fantastic legacy carriers and new start-ups, and these are their main challenges.
Manual fare checks are time-consuming
Availability of the data at the right time
Their fares depend on what time they fly, on connections and on the length of the journey
They don't know what was changed from last time
Completeness of the data
On-the-go addition of new routes
How is FareTrack helping solve these challenges?
With its simple visualization and data, FareTrack, is the best fare benchmarking solution to resolve all the problems mentioned above. With FareTrack's competitor graph, price change indicator, and price range graph, revenue managers have more freedom to concentrate on making decisions as opposed to gathering and analyzing data.
The back-end API for FareTrack delivers the data consistently at the appropriate time. The dynamic filter option in FareTrack gives revenue managers the freedom to make apples-to-apples comparisons.
FareTrack's Price Change indicator feature enables the revenue manager to focus on the change rather than viewing the entire data set by showing what has changed since the last time.
In FareTrack's platform, adding a new route or altering a schedule is very simple. Without contacting a customer executive, revenue managers can quickly add, modify, or delete any existing schedules in the platform to suit their needs.
As the Asia Pacific market rapidly grows, so do fare parity challenges. How is FareTrack helping airlines manage fare parity?
When we were designing FareTrack's platform, we realized how big the challenge was for the airline industry regarding rate parity. Hence, we have an exclusive tab for the Rate Parity section, which allows revenue managers to quickly scan and see which days any OTA or Meta are undercutting them and at what percentage.
Apart from the accuracy and completeness of FareTrack's data – what other elements do you think help provide our customers with an advantage?
FareTrack's adaptability to emerging technologies; we have now integrated our platform with Tableau, giving our airline partners more options for visualizing their data. Because we recognize the significance of data for our airline partners, our customer support team are experts, proactive and available to answer any questions around the clock. Our customers only pay for data usage, and no minimum commitment, which means no financial burden on the airline.
Finally, based on your experience, if you could share some advice or tips for APAC airline revenue management teams what would they be?
Given my experience, I advise APAC airlines to adopt a system that can adapt to any new change the sector is driving toward, whether it be data compilation, data visualization, or data representation. The sector is so dynamic, after all, that everyone in the chain should immediately adapt to it. The person who quickly adapts to new trends will live longer.
Related posts